Among Tuscany best medieval towns, Anghiari deserves a place of honor: was the scene of a famous battle between Florence and Milan
Good morning Dear Explorers!
In today's "Tuscany Travel guide" I want to take you with me to discover another hidden gem that this region has donated us and an unmissable stop if you are looking for a tour of  Tuscany most beautiful medieval towns: I am talking about Anghiari, in the province of Arezzo, for me one of Tuscany best medieval towns.
This medieval town is known above all because of the famous battle between the Milanese soldiers led by the Visconti and those of the Florentine Republic that took place here in 1440.
It lasted only one day, it wasn't particularly violent but at the end of the fighting Florence came out victorious and managed to consolidate its power for good.
A lost painting by Leonardo da Vinci
It was Leonardo da Vinci who made "Battle of Anghiari" as memorable event as he represented it several years later in a painting of the Salone dei Cinquecento in Palazzo Vecchio, as a symbol of Florentine supremacy over the whole territory.
Unfortunately, the Battle of Anghiari is a lost painting, since the innovative technique used by Leonardo proved to be a failure and the work was damaged forever; in its place today, there is another splendid fresco by Vasari representing the victory of Florence over Siena, but many experts do not exclude the possibility that Leonardo's work is still under the current painting.
This will likely remain a mystery forever!
The history of Anghiari: from the Romans to the Lombards
But the history of Anghiari dates back long before this battle. The first historical data are from the Roman or even Etruscan times and originally it was only a small castle inhabited by very few people that was soon conquered by the Lombards.
It is in the early twelfth century that it begins to take on the appearance it still retains, after being conquered by Arezzo which destroyed the castle, rebuilt the defensive walls and built new homes.
Today Anghiari, one of Tuscany best medieval towns, has about 5000 inhabitants and walking through its narrow streets will make you really feel like you have gone back to the Middle Ages. Although it is less known than other Tuscan villages in the Chianti region or the more popular San Gimignano, Volterra and Montepulciano, it is definitely worth a visit: the village is very small so let yourself be guided by your instinct and enter its narrow and full of flowers alleys, perfectly kept thanks to the care of the few people who still live there.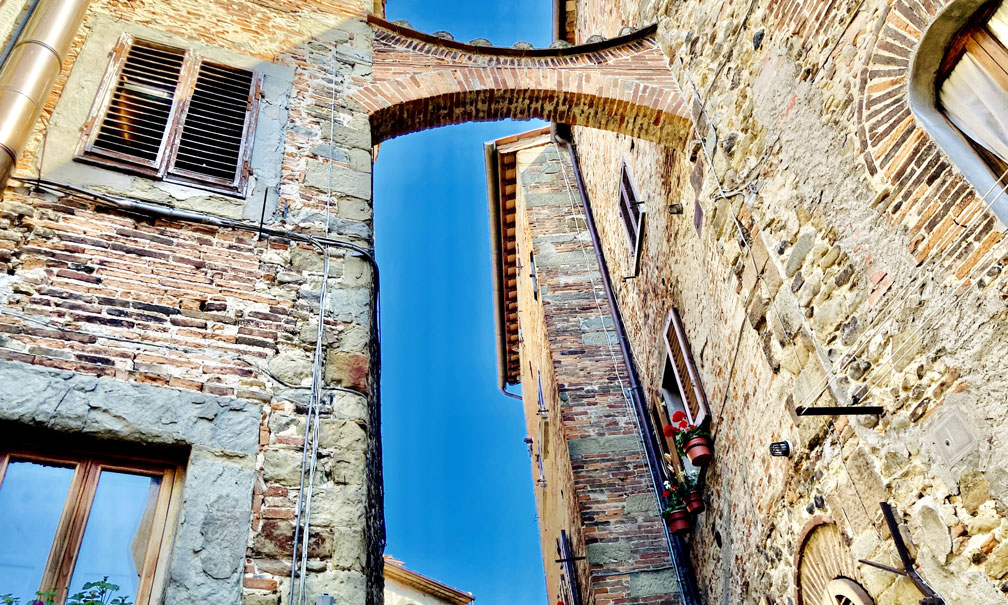 Most important buildings in the medieval village of Anghiari
One of its most important buildings is Palazzo Pretorio, built in the 14th century as the seat of the Florentine vicars, as evidenced by the many coats of arms on the facade representing the magistrates who over the years administered justice on behalf of the Florentine government.
It was once also used as a courthouse and in fact inside there still are the remains of the ancient prisons, as evidence of its macabre past.
In Anghiari you can also admire Palazzo Testi, an interesting palace made up of several buildings built and merged in different historical periods, visit the Palazzo della Battaglia, a museum dedicated to the famous battle of 1440, walk on the ancient thirteenth-century walls and simply enjoy the atmosphere of a timeless full of charm place, where everything seems to have stopped to centuries ago.
Popular traditions and bizarre events of the Tuscan town of Anghiari: the Scampanata
There are also many local popular traditions and events that make this village even more interesting.
For example, every 5 years in May, Anghiari celebrates the rite of the "Scampanata", whose origins date back to at least 1626.
Legend says that back then a young man called Basilio, known to be a great sleeper, was loaded onto a donkey and taken for a walk through the streets of Anghiari so as to be humiliated and mocked by everyone, with the hope of changing his bad habits.
From that moment on, every 5 years, those who join the "Scampanata" rite must arrive in the main square of Anghiari by 6.00 in the morning and the last to arrive will be subjected to a punishment similar to that imposed on Basilio: a "walk" on a cart in front of the crowd ready to throw eggs and flour to the poor soul!
Anghiari: one of the medieval villages to visit in Tuscany
It might seem a somewhat atypical and humiliating punishment, but it is these popular traditions that make Tuscan medieval towns even more interesting to discover, which is why during my explorations I always try to find out new fun customs and stories to tell you in my secrets, mysteries and legends tour, like the secret Florence tour.
Among towns near Florence, have you ever heard of this hidden medieval gem hof Tuscany?
I hope to have intrigued you a little and to see you soon in Italy, to guide you in an exciting experience to discover Tuscany most evocative medieval towns.
Contact me for information on this tour!