A day trip close to Florence to discover the medieval village of Colle Val d'Elsa
Hello Dear Explorers!
In today's travel guide I will take you with me to discover a small medieval village in Tuscany, the perfect destination for those who are looking for off the beaten paths itinerary close to Florence and Siena. I'm talking about Colle Val D'Elsa, an enchanting small village located in a strategic position between the main cities of Tuscany, full of history, charm and tradition.
Despite being very characteristic and beautiful, it is not that known among foreign tourists, unlike the nearby villages of San Gimignano and Volterra of which in my opinion it has nothing to envy and it's therefore a perfect stop for those who like alternative tours.
What to see in Colle Val d'Elsa
Colle Val d'Elsa boasts important archaeological finds dating back to the fourth millennium BC, but the first official documents about the village date back to the 10th century. During Middle Age, thanks to its position along the Via Francigena, a place of passage for all pilgrims heading to Rome, it managed to obtain enormous economic well-being.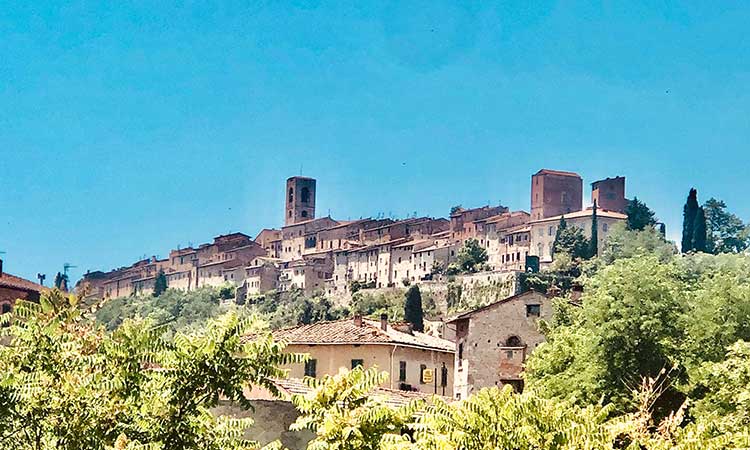 Medieval house-towers of Colle Val d'Elsa
The old town is characterized by the presence of house-towers, tall medieval buildings built by the richest and wealthiest families both to demonstrate their social status and for defensive reasons. As often happens among those who have power and money and as it already happened in Florence and San Gimignano, these families "competed" to win the title of who owned the tallest house-tower.
Colle Val d'Elsa, birthplace of Arnolfo di Cambio, tuscan architect
Among the few house-towers left today stands that of Arnolfo di Cambio, the very important Tuscan architect who built most of Florence symbolic buildings, including the Cathedral of Santa Maria del Fiore and Palazzo Vecchio, and who was born in Colle Val d'Elsa.
Just near Arnolfo Cambio's house, there is also the Baluardo, the defensive bastion located at the end of the old town from where it is possible to admire the lower valley and the Chianti hills.
Main activity of the village: the crystal production
The main activity of Colle Val d'Elsa is the crystal production, thanks to which it has become famous all over the world. The glass industry was born here already in 1500 and then it was transformed into crystal production, which still continues to represent an important part of the town's economic life. Today 95% of Italian crystals and 15% of the world crystals are produced here, so much so that Colle has been granted the name of Bohemia of Italy.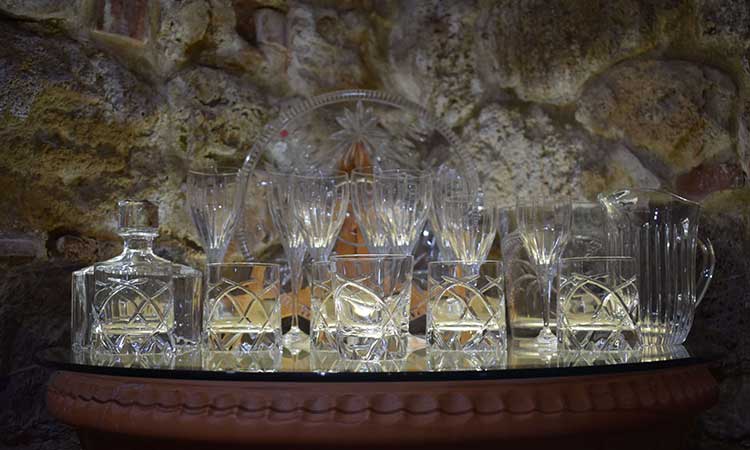 The ancient crystal engraving technique
Its craftsmen have handed down the secrets and techniques of crystal production, processing and decoration for generations, among which the grinding technique stands out: an ancient crystal engraving technique made entirely by hand and using the grindstone, a heavy wheel that, when maneuvered by the craftsman, helps to "dig" the crystal and thus create floral or geometric decorations.
The precision and details that these craftsmen are able to obtain with this technique are truly amazing and among all I was struck by the works of a characteristic shop in the heart of Colle, La Grotta del Cristallo, where you can find splendid products in cut crystal, including wine glasses and goblets.
If you want to know more, you can also take a look at my e-commerce where I have selected my favorite handcrafted products, including these crystal engraved glasses.
Things to do near Colle Val d'Elsa
After visiting the medieval village of Colle Val d'Elsa and discovering its history, if you still have some time, I also recommend the naturalistic itinerary to Elsa river park, where you can enjoy some nature and relaxation and in summer also take a bath in the turquoise waters of the Elsa river-
There are so many things to do in Tuscany and a guided visit to Colle Val d'Elsa could be perfect for you if you want to spend a different day, among historic buildings, artisan shops and hiking trails-
I will wait for you in Tuscany soon!
Martina