Day trip to Pienza: the perfect town in Tuscany
Hello Dear Explorers!
Today we leave the Chianti area and move to the Val d'Orcia region for a day trip to Pienza.
When you see the images of Tuscany on postcards, travel posters or even documentaries on TV they are almost always shot in Val d'Orcia, an area on the southern part of the region between Siena and Grosseto. This valley, crossed by the Orcia river, is a large protected area that has been part of the World Heritage Site since 2004 and is famous for its breathtaking landscapes with centuries-old cypresses, charming small towns and lots and lots of good food and wine.
Tour in Pienza: the origins
Among the many small towns in Val d'Orcia, I began my explorations with a day trip to Pienza.
Pienza is a small jewel perched on a hill from which it enjoys a splendid as well as strategic view and its first origins date back to the 13th century, when it was still known with the name of Corsignano.
It was in Corsignano that Enea Silvio Piccolomini, the future Pope Pius II, was born. When he returned there after several years, he decided to entrust the architect Bernardo Rossellino with the project of completely rebuilding and renovating the city according to the new principles of Renaissance architecture.
Pienza: the perfect town of the Renaissance
The architect Rossellino under the guidance of the humanist Leon Battista Alberti managed in just 4 years to build what is now considered the ideal town thanks to its elegant and majestic buildings, its proportioned streets and squares and its balanced and harmonious look, exactly as the rules of Renaissance architecture dictate.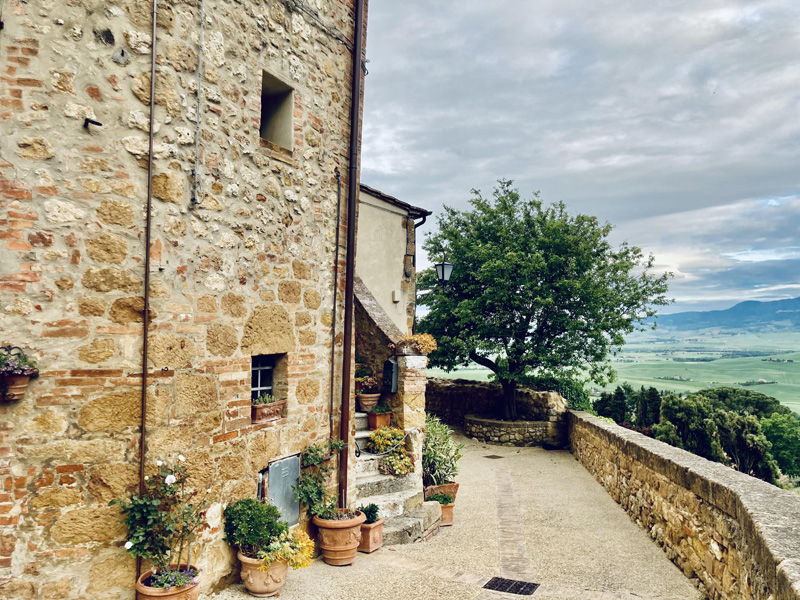 Even today Pienza looks almost the same as it was in the fourteenth century and walking through its streets will allow you to savor the true essence of the Italian Renaissance.
What to see on a day trip to Pienza
Pienza is really small and with a day trip you will be able to easily visit all its main attractions.
Access to the city is through the "Porta al Murello" which, as soon as you cross, will make you feel like you have stepped back in time. The narrow streets are truly picturesque, full of wine bars and craft shops and the atmosphere is almost magical.
The main square is called Piazza Pio II and has the shape of a trapezoid: on the tip there is the Cathedral of Santa Maria Assunta, in Renaissance style but still with some Gothic elements belonging to the previous parish church, and all around we find Palazzo Borgia, which is the seat of the Diocesan Museum, the Town Hall and the Piccolomini Palace, former residence of the Pope.
Thanks to the use of perspective and a geometric organization of the spaces, all the buildings are perfectly in harmony and make us feel like where really are in a perfect town.
Piccolomini Palace in Pienza
Particular attention deserves Palazzo Piccolomini, one of the first examples of Renaissance architecture that the architect Rossellino built using Palazzo Rucellai in Florence as a model, made by his teacher Leon Battista Alberti.
The Piccolomini family lived here until 1962, the interior is still furnished with the original furniture and events and concerts are often hosted in the courtyard (Take a look at the official website of Palazzo Piccolomini if you want to see the calendar of upcoming events) .
But the most incredible element of the building is its hanging garden from which you can admire a breathtaking view over the whole Val d'Orcia, one of the most beautiful viewpoints I've ever seen (and from which you can take incredible photos!) .
Pienza: the town of Pecorino
Last, but not least, Pienza is famous for pecorino or also called Cacio, as Tuscan people say.
As a food lover, I could not help but include in my day trip to Pienza a guided tour of a cheese factory and tuscan cheeses tasting, to find out more about cheese production techniques and taste delicious local products.
Among my favorites there is certainly the Caseificio Cugusi, cheese producers since 1962, where you can make your own personalized picnic basket by picking among all of their products: not only pecorino and cheeses, but also mustards, cured meats and lots and lots of good wine .
What to see around Pienza
The last stop of my day trip to Pienza was the Pieve di Corsignano, just 1 km away. It is a Romanesque-style church of the twelfth century, although its origins seem to be even older and date back to the seventh century, famous for hosting the baptismal font where Pope Pius II was baptized.
It is defenetly a little gem because, although it appears very bare both externally and internally, it is full of hidden meanings linked to esotericism and medieval iconography.
Pienza, despite its small size, is really full of things to do, see and eat and I certainly recommend it if you are looking for some excursions to do outside Florence and for a fun food and wine tour in Tuscany.
Let me know what you think about it!
See you to the next exploration!